This expert-led three webinar series aims to leverage experts and best practices from the University of Kentucky Markey Cancer Center in standardizing and improving the screening, diagnosis, and management of cancer. Each session will focus on a single disease site (breast, lung, or ovarian) and highlight the importance of multidisciplinary collaboration.
---
September 13, 2023 | 12:00 PM EDT
Please join us September 13, 12-1 PM EDT for this second 60-minute webinar series session featuring Timothy Mullett, MD, MBA, FACS.
---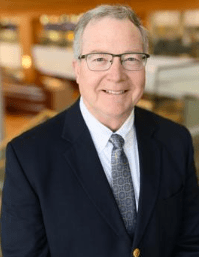 Featured Speaker
Timothy Mullett, MD, MBA, FACS
Associate Professor of Surgery in the Division of Cardiothoracic Surgery
University of Kentucky College of Medicine
Dr. Mullett, Medical Director, Markey Cancer Center Affiliate Network, is a surgical oncologist who specializes in the treatment of lung cancer. Although he began his career at the University of Kentucky as a cardiothoracic surgeon treating heart issues, he soon shifted his professional focus to treating lung cancer, one of the state's major health problems. Today, he is a co-leader and principal investigator of the Kentucky LEADS Collaborative to improve lung cancer survival.
In addition to his work in lung cancer research, Dr. Mullett serves as the chair of UK's cancer committee and the medical director of the Markey Cancer Center Research Network, a collaborative network that conducts high priority trials including therapeutic oncology trials and interventional and non-interventional studies for community centers.
Dr. Mullett currently serves as chair of the Commission on Cancer (CoC) of the American College of Surgeons (ACS).
---
All Sessions
Session #1: Wednesday, June 14 | 1-2 PM EDT — WATCH NOW
Expert Insights into Management of Advanced Triple Negative Breast Cancer
Featured Speaker: Ruta Arays, MD
Session #2: Wednesday, September 13 | 12-1 PM EDT — REGISTER
Lung Cancer Screening and Identification of Lung Cancer Patients at All Stages
Featured Speaker: Timothy Mullett, MD, MBA, FACS
Session #3: Tuesday, November 7 | 12-1 PM EDT — REGISTER
Optimizing the Management of Newly Diagnosed Ovarian Cancer Including Maintenance
Featured Speaker: Tricia Fredericks, MD