OncoLens Streamlines NAPRC Accreditation through Advanced Patient Tracking and Analytics Reporting
December 13, 2022
The American College of Surgeons launched its National Accreditation Program for Rectal Cancer (NAPRC) in 2018 with the goal of improving outcomes by standardizing treatment processes and focusing on multidisciplinary teamwork. The quality initiative was driven by a recognition that treatment outcomes have been highly variable, based on specialization, training and volume, and that outcomes in the United States lagged behind those in Europe.
It is known that achieving and maintaining accreditation requires intensive tracking and reporting across multiple processes and performance measures in preparation for, and in between, site visits. Although this can be done manually, the process can be inefficient and consume time and resources better spent on providing care. Manual tracking also requires staying on top of on-going changes to the NAPRC standards.
The OncoLens Multidisciplinary Cancer Care Platform streamlines clinical services and outcomes through tracking and reporting to meet NAPRC requirements. OncoLens' easy access, single repository, records and refers all information necessary for accreditation. It provides online case entry to help ensure comprehensive documentation of all relevant metrics, including treatment evaluations and recommendations and all pre-treatment and post-surgical discussions. Care team members can quickly update case information and add notes, as needed. Metrics are organized in two categories — General (CoC) and NAPRC, making it easier to categorize patients appropriately. In each category, dynamic checklists specific to diagnosis simplify data entry and are designed to reduce the risk that any required metrics might be overlooked. Cases can also be marked for exclusion from NAPRC reporting. For greater efficiency, OncoLens supports integration with EPIC, Cerner and nearly all other electronic medical record (EMR) systems.
NAPRC Reporting
Your greatest efficiencies will be experienced when generating reports for submission. OncoLens eliminates the time and resources needed to manually collate data from disparate sources and stay up to date on NAPRC reporting standards. OncoLens' simple, straight forward reports are properly formatted and aligned to current standards.
The Summary Report provides metric compliance rates against expected thresholds to assess performance for a selected timeframe. It ensures that only the applicable patients and metrics are counted based on phase of care or diagnosis location.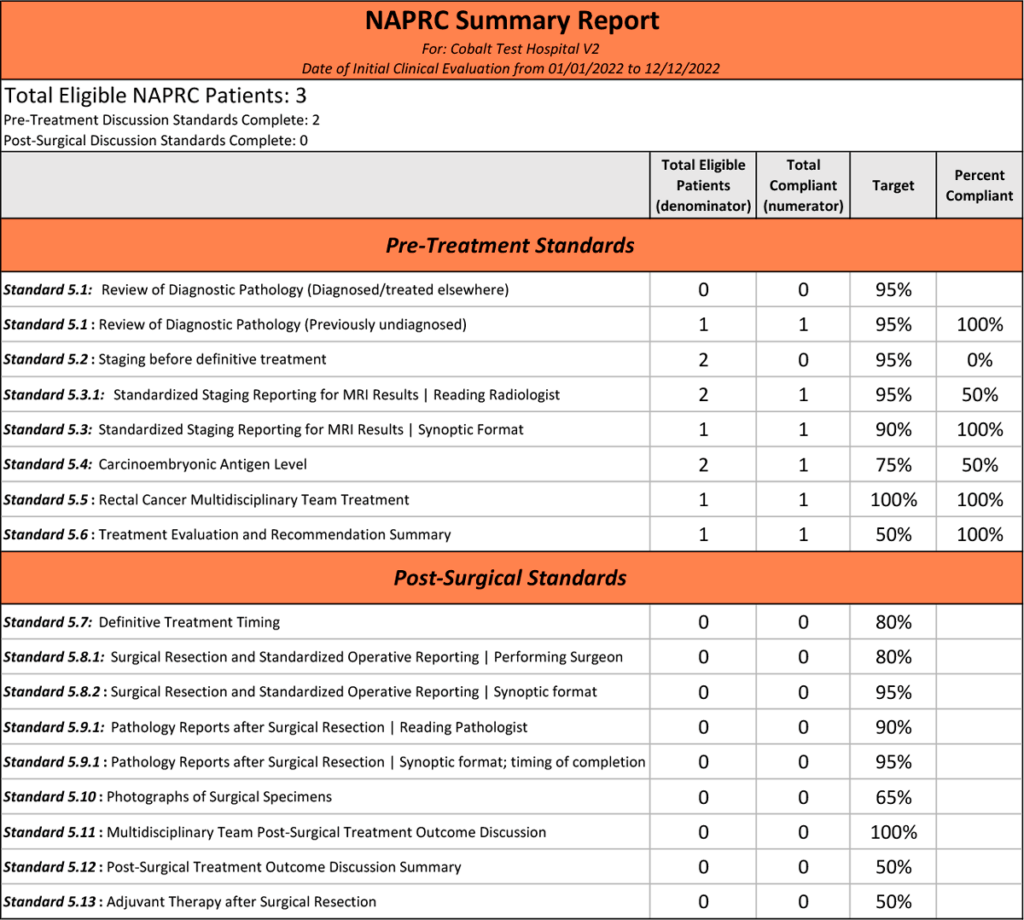 OncoLens
OncoLens helps remove difficulties and ensure NAPRC accreditation by tracking and reporting better patient outcomes through unprecedented collaboration across multidisciplinary cancer care teams. Contact OncoLens to learn more about patient tracking and analytics.
December 13, 2022
Follow Us